From making $1 million per paid Instagram post to record-breaking Manchester United merchandise sales – Here is how Cristiano Ronaldo became football's first billionaire.
Cristiano Ronaldo has topped Forbes' "World's Highest-Paid Soccer Players 2021" list, with the Portuguese athlete raking in US$125 million in total earnings over the past 12 months. But making the rich list is nothing new to the star football player – after all, he is the first team sport athlete in the world to make over US$1 billion in career earnings before taxes.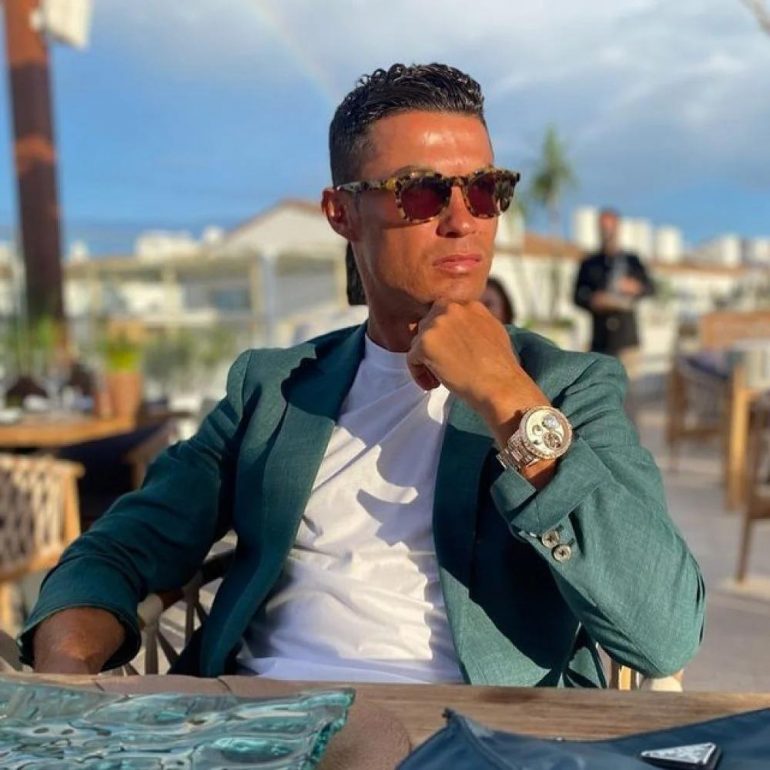 But how does one of footie's hottest players earn the big bucks? From leveraging his social media power to signing multimillion-dollar deals, Ronaldo sure knows his way around balancing the books.
That impressive Manchester United move
He has been called the world's most popular athlete and he has more than half a billion followers across all of his social media platforms at the time of writing, including Facebook (149 million), Instagram (348 million) and Twitter (94.5 million).
This summer, 12 years after he left Manchester United for Real Madrid, it was announced that Ronaldo would be returning "home". Forbes reports the Ronaldo/Man United deal is worth US$70 million, which includes his salary and bonus agreements.
READ: From the Queen of QVC, Lori Greiner to the cocky Kevin O'Leary – Who is the richest Shark Tank team member? The outspoken NBA team member is worth $4.5 billion and Barbara made her millions with a mere $1,000.
Cristiano Ronaldo of Manchester United reacts during the English Premier League football match between Manchester United and Aston Villa in Manchester, Britain, on September 25. Photo: EPA-EFE
Ronaldo was confirmed as United's new No 7 and the August 31 announcement set off a series of astonishing records being broken.
No 7 earns the cash
So popular did Ronaldo remain at "home" that more than a decade after leaving United his name was still sung in the Old Trafford stadium terraces. And boy, did his loyal fans show up for their idol's return. There were long lines outside Old Trafford after his team number was confirmed, according to British media, with people wanting to get their hands on the new merchandise as soon as they could.
Cristiano Ronaldo is Manchester United's iconic No 7. Photo: @cristiano/Instagram
According to SportBible, some retailers recorded United kits with Ronaldo's number as selling more than US$44 million worth of goods. Remarkably, this was within just 12 hours of the announcement being made.
Forbes reports that Ronaldo's merchandise was the fastest-selling shirt online in Premier League history.
READ: Subtle but brilliant – Here is how Jill Biden is low-key trolling Melania Trump. From gracing the cover of Vogue to working hard at the White House to hugging and kissing her husband in public.
Portugal's Cristiano Ronaldo arrives to a training session at the Bessa stadium in Porto, Portugal, in June 2019. Photo: AP Photo
Influencing half a billion
Ronaldo reportedly charges up to US$1 million per paid post on Instagram, making him the highest earner on the platform. The Guardian also reports that he makes more than US$40 million a year on Instagram alone.
Cristiano Ronaldo enjoying his luxurious life. Photo: @cristiano/Instagram
Nothing shows the power of Ronaldo – and his strong fan base – more than the infamous shade he threw at Coca-Cola during a June press conference at the European Championship. The Portuguese captain removed two bottles of Coke that were on the table in front of him – despite the brand being the event's sponsor – and picked up a bottle of water instead, and encouraged the audience to "drink water".
The move cost Coca-Cola billions – but created an opportunity for water brands. Goal reported that Evian promoted Ronaldo's comment and the World Health Organization even weighed in, reiterating its anti-sugar stance.
His endorsement deal with Nike
Yes, Ronaldo earns his keep on social media, but it is still his lifetime deal with Nike that brings home the dosh. And which will continue to do so for, er, his lifetime.
READ: Cameron Diaz unveils footwear collection for fashion label Pour La Victoire
Cristiano Ronaldo has a lifetime deal with Nike. Photo: @cristiano/Twitter
Inked in 2016, the partnership was considered historic, marking only the third time the company has ever signed a lifetime celebrity endorsement – the other previous two were with LeBron James and Michael Jordan – while Forbes reports that Ronaldo scored US$1 billion from the deal.
According to Investopedia, Nike recognised the power of Ronaldo's social media presence early on and considered him to be a "mega-influencer". The website also reports that Ronaldo made US$474 million for Nike in just a year.

Note: This story was originally published on SCMP and has been republished on this website.